Visible Engineering Services Sdn Bhd
23, Jalan IKS Juru,
Taman Industri Ringan Juru,
14100 Simpang Ampat,
Penang, Malaysia.
+604-5080032
+604-5078032
+604-5077032
+604-2400923
+6012-4260032
+6012-4770032
+6012-4305032
+6012-4310032
800 HB2
Mechanical Seals --- SPECIAL Developed Seals ---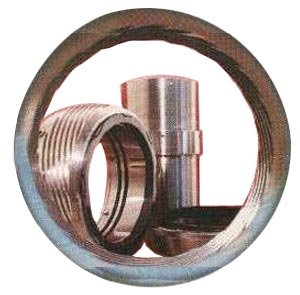 Boiler feed Water Seals


800 HB2 mechanical seals for boiler feed pumps
Seal series 800 HB2
Operating Limits
Shaft Diameter
d1
: 30-250mm
Pressure p
p
: 50-140 kg/cm2
Temperature
t
: 300 o C
Velocity
v
: >50m/sec
Features:

Cooling :
Sliding velocities of the order of 30m/sec. and above demand special emphasis on heat dissipation. Besides end face friction, turbulent fluid friction of the rotating parts must also be taken into account. In 800 HB2 seals Silicon Carbide having the highest heat dissipation capacity is mounted onto the rotating seal housing.

Thermohydrodynamic circulation grooves inscribed on the rotating face boost the cooling of the sliding faces by reducing the coefficient of friction and protecting the seal against thermal overloading.

Increased coolant flow effected by the pumping screws 4 and the fluid guiding channel 3 combine to force the cold water into the gap between mating ring 2 and seal ring 1 blowing out gas bubbles and dirt particles and picking up frictional heat.

Sliding Materials

Where the seal is operated at a high temperature of over 70o C in conjunction with extremely heavy loading, the face materials must necessarily be highly wear resistant. Partial Vaporisation of feedwater in the seal gap cannot be totally eliminated and thus face materials with acceptable dry running properties are mandatory.

In consideratioin of the thermal and mechanical aspects, a heavily loadable face combination Silicon Carbide 2 running against metal impregnated Hard Carbon 1 is selected.

Certain feedwater conditioning additives will often initiate selective corrosion /erosion on the binder component of previously used Tungsten Carbide faces and hence Silicon Carbide, which is chemically inert against these additives, is used. Metal impregnated Carbon is selected for hot water applications because of its improved thermal conductivity and acceptable wear behaviour.

Springs :
In view of the risk of dynamic distortion because of high sliding velocity of over 25m/sec. The springs are located in the stationary part.

Advantages :
Operational Reliability : Very little maintenance required
Easy Interchangeability : Cartridge assembly offering rapid interchangeability and risk free assembly at user end.

Long life :
For 800 HB2 seals 20,000 hours of continuous running may be viewed as normal. Attainment of over 70,000 hours is possible.

For type 800 HB2 and mechanical seals for Booster Pumps, Drip Pumps, Condensate Pumps, Fuel oil Pumps, HSD Pumps, Ash slurry Pumps, Flue Gas Desulpherisation System Pumps and for Clinker Grinder seals.
Increased Pump capacity is the trend in thermal and nuclear power stations because of high initial and maintenance costs. Pressure, shaft dimensions and speeds are considerably high. 800 HB2 seals incorporating thermohydrodynamic circulation grooves and pumping devices are effective even with speeds above 7000 RPM. The contrarotating pumping screws integrated into the seal allow for adequate cooling at the operating pressure to overcome head loss in the piping, filter and heat exchanger. Leak-Proof type 800 HB2 is a specially designed seal for feed pumps enabling normal running life of 20-30,000 hours in continuous operation.