Visible Engineering Services Sdn Bhd
23, Jalan IKS Juru,
Taman Industri Ringan Juru,
14100 Simpang Ampat,
Penang, Malaysia.
+604-5080032
+604-5078032
+604-5077032
+604-2400923
+6012-4260032
+6012-4770032
+6012-4305032
+6012-4310032
88B2/CG
Mechanical Seals --- Single Coil Spring Seals ---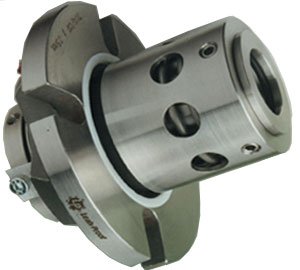 Compact cartridge Single coil spring seal, Single Acting, Balanced, Independent of Direction of Rotation
Seal series 70B/CG
Standard Style
Face Materials
Rotary:- Carbon, Silicone Carbide, Tungsten Carbide
Stationary:- Silicone Carbide, Tungsten Carbide, Ceramic (99.5 %), Cast chrome steel

Metal Parts
AISI 316

Secondary Seals
Elastomers

Applications
Refinery
Petrochemicals
Chemical Process Pumps
Corrosive chemicals

Seal Characteristics
Single acting
Inside mounted
Operating Limits
Shaft Diameter
d1
: 20 бн95 mm
Pressure p
p
: 25 bar
Temperature
t
: -20 бн +220 o C
Velocity
v
: 20 m/s.
Series 70B/CG are single helical coil spring cartridge seals developed for dirty media & cloging type application. Various type material & elastomers can be offered for wide service application. The compact cartridge designs of seal permits their use in all type & centrifugal pump.


These Seals are also available in DIN 24960 standard. & will be denoted as N70B / N75B