Visible Engineering Services Sdn Bhd
23, Jalan IKS Juru,
Taman Industri Ringan Juru,
14100 Simpang Ampat,
Penang, Malaysia.
+604-5080032
+604-5078032
+604-5077032
+604-2400923
+6012-4260032
+6012-4770032
+6012-4305032
+6012-4310032
60/CG
Mechanical Seals --- Metal Bellow Seals ---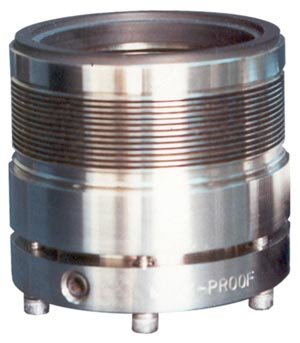 Welded Metal Bellows, Inherently Balanced , Independent of Direction of Rotation
Seal series 60/CG
Standard Style
Face Materials
Silicon Carbide, Tungsten Carbide, Carbon.

Metal Parts
AISI 316, Carpenter 42
Welded Bellows :
AM 350

Secondary Seals
Grafoil

Applications
Petrochemicals
Refineries

Seal Characteristics
Single acting
Independent of direction of Rotation
Inherently Balanced
Welded Metal Bellows
Operating Limits
Shaft Diameter
d1
: 19 бн100 mm
Pressure p
p
: 20 bar
Temperature
t
: -20 бн +400 o C
Velocity
v
: 20 m/s.
Seal series 60/CG is welded metal bellow cartridge seal is used in chemical, petrochemical and refinery process pumps for high temperature/moderate pressure applications. This bellow seal is constructed by welding a series of diaphragms together at the edges to form a bellows unit. The bellows unit eleiminates the need for springs, dynamic secondary seal and provides flexibility to the seal face in addition to compensating for seal face wear.