Visible Engineering Services Sdn Bhd
23, Jalan IKS Juru,
Taman Industri Ringan Juru,
14100 Simpang Ampat,
Penang, Malaysia.
+604-5080032
+604-5078032
+604-5077032
+604-5060330
+6012-4260032
+6012-4770032
+6012-4305032
+6012-4310032
20M and 20R1
Mechanical Seals --- Teflon Bellow Seals ---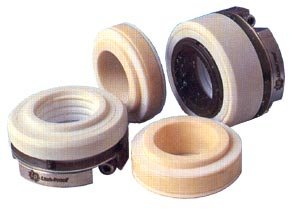 PTFE Bellows Seals Single Acting, Independent of Direction of Rotation
Seal series 20M & 20R1
Standard Style
Face Materials
20M : GFT/Ceramic (99.5%)
20R1 : GFT/Ceramic (99.5%),
Silicon Carbide / Ceramic (99.5%),
Carbon-R/Ceramic(99.5%)

Metal Parts
AISI 316
Springs : Hastelloy-C

Secondary Seals
PTFE

Applications
Extremely corrosive services.

Seal Characteristics
Single acting
Outside mounted
Independent of direction of rotation
Balanced
Operating Limits
Shaft Diameter
d1
: 18 бн 100 mm
Pressure p
p
: 10 bar
Temperature
t
: -45 бн +120 o C
Velocity
v
: 10 m/s.
Series 20M & 20R1 are designed for extremely corrosive chemicals, including concentrated acids and salts, strong oxidising and reducing agents, and chemically active organic compounds. All components which come in contact with the liquid being sealed are made of chemically inert material. Metallic components clamping ring and springs are located outside the pump stuffing box.
Series 20M : In this seal type Glass filled PTFE face is composite moulded with highly flexible PTFE bellows.
Series 20R1 : It is a seal similar to Type 20M in design with replaceable seal ring. This permits easy removal and replacements of the seal ring, a cost saving feature. In this type different face materials can be used to handle a wide range of corrosive and abrasive liquids.