Visible Engineering Services Sdn Bhd
23, Jalan IKS Juru,
Taman Industri Ringan Juru,
14100 Simpang Ampat,
Penang, Malaysia.
+604-5080032
+604-5078032
+604-5077032
+604-5060330
+6012-4260032
+6012-4770032
+6012-4305032
+6012-4310032
40/CG and 45/CG
Mechanical Seals --- Metal Bellow Seals ---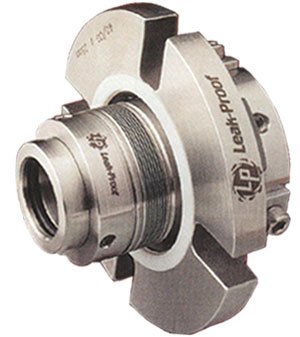 Compact Cartridge Metal Bellow Seal, Single Acting, Inherently Balanced, Independent of Direction of Rotation
Seal series 40/CG & 45/CG
Standard Style
Face Materials
Rotary:- Carbon, Silicone Carbide, Tungsten Carbide
Stationary:- Silicone Carbide, Tungsten Carbide, Ceramic Cast chrome steel

Metal Parts
AISI 316, Hastelloy-C

Secondary Seals
Elastomers, PTFE

Applications
Refinery
Petrochemicals
Chemical Process Pumps
Corrosive chemicals

Seal Characteristics
Single acting
Inside mounted
Independent of direction of rotation
Inherently Balanced
Cartridge unit
Operating Limits
Shaft Diameter
d1
: 20бн95 mm
Pressure p
p
: 18 bar
Temperature
t
: -20 бн +220 o C
Velocity
v
: 20 m/s.
Series 40/CG & 45/CG is cartridge metal bellow inherently balance seal with O-Ring as secondary sealing member. Various face material & elastomers can be offer for wide service application. The compact cartridge design of seal permits their use in all types of centrifugal pump. The bellow unit eliminates the need of springs, dynamic seal and provides flexibility to the seal faces in addition to compensating for seal face wear.